Bespoke Blends
Welcome to Boteane Bespoke Blends – where tea dreams come to life! Our Bespoke Tea Blending service is your ticket to tea heaven, where our tea wizards work their magic to bring your dream tea blend to life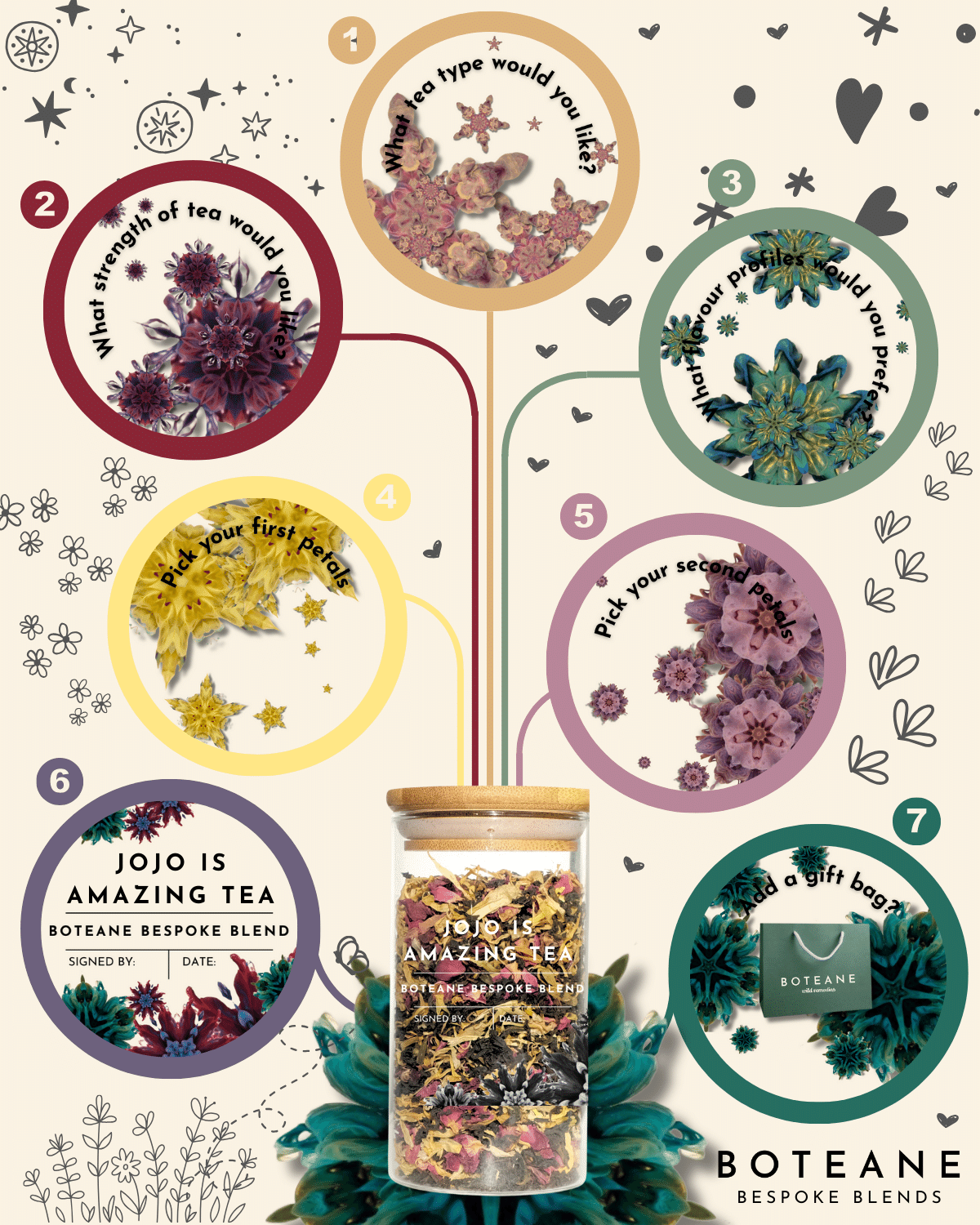 Let the tea magic begin!  
Why Choose Boteane's Bespoke Blends?
Unlock the power to create a tea as unique as you are! Our online blending service guides you through selecting tea type, flavour vibes, petal perfection, and even naming your tea jar. It's like creating your own masterpiece, but with tea!
The Perfect Gift, Personalised!
Whether it's a self-love treat or a surprise for a friend, our Bespoke Blends make the ultimate personalised gift. Because who wouldn't
love a tea crafted just for them?
Fun Fact: Sip More with Loose-Leaf Magic!
Did you know? One of our Bespoke Blends can whip up about 80 cups of pure bliss! That's the loose-leaf tea advantage, making each cup a
journey into flavour paradise
Create My Blend
How does it work?
Tea Type & Flavour Strength

Pick your base tea – green, black, or mixed. How strong do you want it? Light, medium, or rich? Your tea journey, your rules – it's all about your unique blend

Add Signature Flavours & Petals

Craft your blend's unique character with malty, grassy, floral, or nutty notes. Then, let's add a pop of colour with delicate calendula or rose petals – a visual and aromatic delight!

Name, Wrap, Enjoy!

Name your blend with flair, and our tea blending expert will add their initials. We'll package your Bespoke Blend in a beautiful, ribboned tube box – or go all out with our fabulous gift wrap. Every blend deserves a grand entrance!