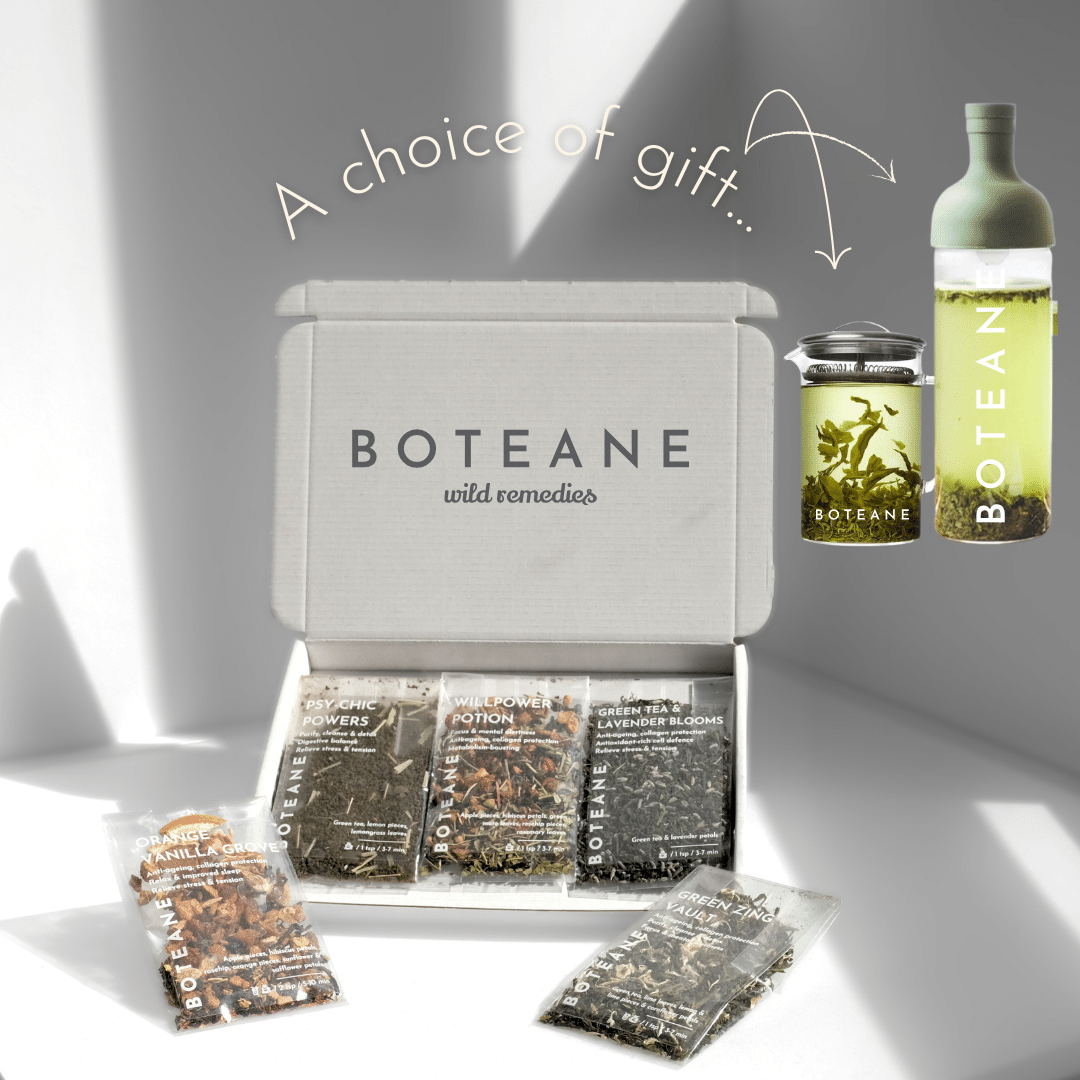 The loose tea boutique - infinite variety, easy exploration.
For a new world of flavour & wellness try our loose teas, inspired by the seasons – delivered as often as you like
Pick my teas & gift!
Want to send a gift? Find our gift options here
How does it work?
Welcome to the Boteane boutique, the modern tea haven. We've created a new way for you to explore loose teas by creating an ethical tea shop subscription with flexibility and variety
Step 1, Choose your subscription plan

First, select how often you want your teas delivered. We offer a variety of subscription options and free UK delivery. You can pause or cancel anytime. You're in control

Step 2, Pick your teas

Next, pick-n-mix five favoured teas for your unique taste from our large collection

Step 3, Enjoy endless variety

Then, with each delivery, explore and curate your own selections from our ever-changing delicious assortment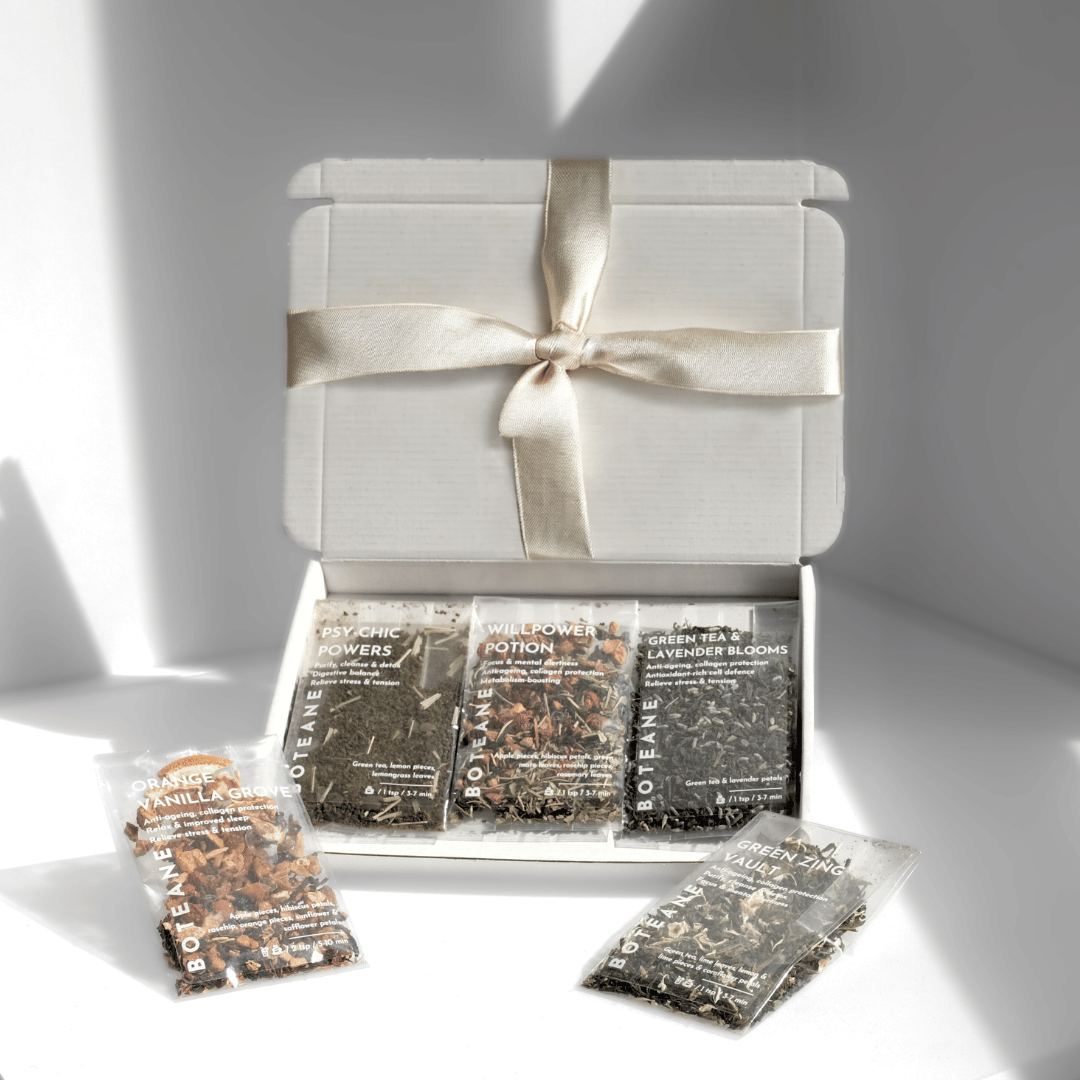 What's in a Boteane tea box?
Discover a dynamic collection of diverse flavours with Boteane's tea subscription
Five opulent teas. Consistently ranking in the top 5% of global luxury standards
Exceptional value. Brewing 40-80 cups per box – no more weak tea!
Commitment to sustainability. Fully recyclable or compostable packaging
Unmatched taste and aroma. Teas sourced during peak seasons
Proven health & wellbeing. Each cup is packed with antioxidants and vitamins
and... a gift worth £32 with your first box. A choice of our Easy-peasy teapot or Cold brew bottle!
Pick my teas & gift
The most frequently asked questions...
How does a Boteane tea subscription work?

A Boteane tea subscription is a personalised tea experience that offers a convenient and enjoyable way to discover and enjoy a wide range of premium teas and tisanes. With a Boteane subscription, customers receive regular deliveries of their favourite teas or herbal blends based on their unique preferences

Here's how it works:

Customisation: Customers begin by selecting their preferred tea delivery plan, such as fortnightly or monthly. Then Pick 'N' Mix favoured teas

Tea Selection: Before each scheduled delivery, customers receive an email notification with a link to their Boteane account. In this step, they handpick their favoured teas or tisanes they'd like to receive in their upcoming delivery. This level of customisation allows them to choose teas that match their evolving tastes and preferences

Delivery: Once the tea selection is made, Boteane curates a unique tea package including the chosen teas

Flexibility: Customers also have the flexibility to modify their subscription and manage their delivery schedule, ensuring that the Boteane experience remains tailored to their needs

A Boteane tea subscription empowers tea enthusiasts to take control of their tea experience, explore a diverse range of flavours, and enjoy the convenience of having premium teas delivered to their doorstep regularly. It's the best way to elevate the tea-drinking experience and discover new flavours on a regular basis
Can I customise my tea selection? 

Yes, we have an ever-changing large selection you can choose between

Explore our variety of loose-leaf and whole-fruit teas. Our ever-changing seasonal collection includes green, herbal, black, fruit and wellness teas

Helpfully we carefully categorise our teas so you can find the ones you like easily and quickly

You can search for different tea types, flavour profiles, health benefits, caffeine content, temperature, and antioxidant level, or choose from curated boxes with themes
How often will I receive my deliveries? 

The frequency of your tea subscription deliveries depends on the subscription plan you choose 

We offer these plan options:

But you can also edit your delivery schedule and delivery days in your account area

You're in control
Where do you deliver and how?

We offer free delivery to every registered address in the mainland UK using Royal Mail.  

You don't need to be in to receive the delivery. Your tea will fit through the letterbox and will be happy waiting for you to get up or get back home 

How does delivery outside the UK work? 

You can still become part of the Boteane family if you live outside of the UK but a small delivery charge of £5.00 will be added to your subscription orders 
When will I get charged and re-charged?

You will be charged on the day that you choose to have your Boteane Box scheduled. You can update this anytime in your account area
Can I cancel or modify my subscription?

Absolutely! You have full control over your subscription

You can easily manage your subscription through your account dashboard. You can cancel, skip a month, or modify your preferences at any time. We want to ensure that you have a hassle-free experience with our tea subscription service
Can I give Boteane as a gift?

Tea-rrific Gifts!

We have two types of gift option.

A one off gift box and a subscription gift

Our subscription gifts

Looking for the perfect gift that keeps on giving? Look no further. Boteane's Gift Tea Subscription is the ultimate luxury experience, designed to delight your loved ones for months to come

We offer three, six, nine & twelve month gift tea subscription options

We believe in the power of choice. Your gift recipient will have the freedom to personalise each box, handpicking the teas that resonate with their unique preferences

You can make it extra special with a personalised gift note. Share your warm wishes and let them know you're thinking of them with each delivery

PLUS...

Bonus Gift Included! With their first delivery, they'll also receive a complimentary tea pot or cold brew bottle. It's our way of adding an extra touch of joy to their tea moments

One off gifts

Gift one carefully curated box of our tea with a personalised gift card - guaranteed to make their day


A long-lasting present. That they can enjoy over a long period of time, brewing 40-80 cups per box
Five opulent seasonal teas. Curated by JoJo and consistently ranking in the top 5% of global luxury standards
Commitment to sustainability. Fully recyclable or compostable packaging
Unmatched taste and aroma. Teas sourced during peak seasons
Proven health & wellbeing. Each cup is packed with antioxidants and vitamins
I have other questions – how do I get in touch?

Boteane takes pride in providing exceptional customer service that goes above and beyond to ensure customer satisfaction

Our dedicated customer service team is knowledgeable, friendly, and responsive, always ready to assist you with any inquiries you may have. We strive to address your questions promptly and efficiently, providing clear and helpful guidance throughout your tea journey. Whether you need assistance with your subscription, personalised tea recommendations, or any other tea-related queries, our team is here to support you every step of the way

We value our customers and are committed to building strong relationships by delivering outstanding service that exceeds expectations

See for yourself by contacting us at info@boteane.co with your query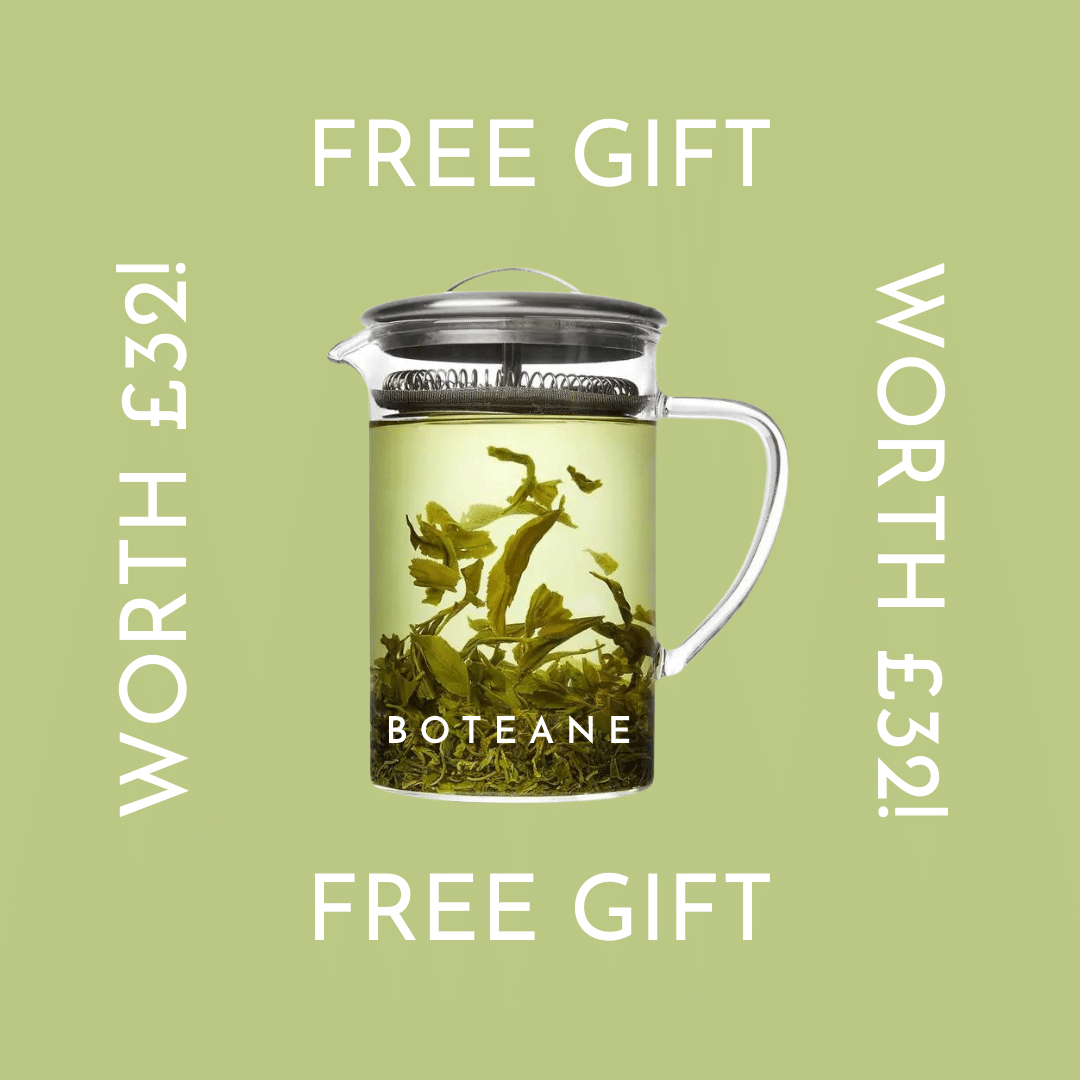 Our easy-peasy teapot
Making loose tea doesn't have to be intimidating. Our easy-peasy teapot is designed for optimal tea enjoyment. It allows tea leaves to infuse freely, unlocking their incredible flavours. Once your tea is brewed, pour your Boteane into cups for a perfect tea time
Pick my teas & gift!
Our cold brew bottle
Cold brew tea is a slow infusion process that extracts maximum goodness, resulting in a mild and flavourful taste without any bitterness. It's a refreshing and hydrating option, perfect for those who prefer a sugar-free alternative. Use our cold brew bottle to stay hydrated throughout the day with your Boteane
Pick my teas & gift!